Environment
Aimed at Local Authorities and Service Providers, our Go-Environment solution offers modules to manage the complete cycle, from waste collection to incentive pricing.

A global solution
for waste management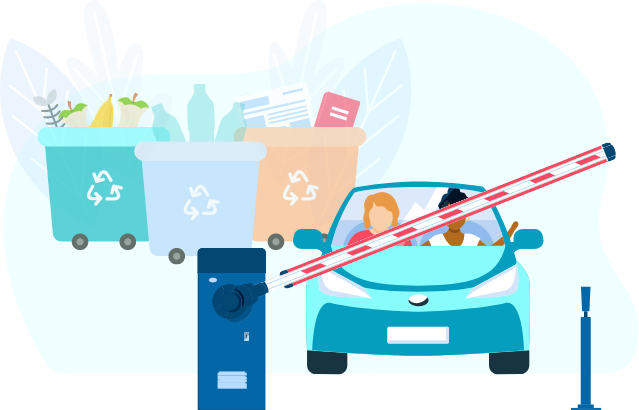 Equipment for easy management of access in waste collection centers
A system of ALPR cameras (Automatic License Plate Reading) to ensure smooth traffic flow and better availability of the reception staff.

A system of contactless badges to identify all users, individuals or professionals.

An ECOPAD mobile terminal allowing the agent to physically manage access control at the entrance of the waste collection center.

These solutions are accompanied by barriers and display panels to guarantee optimal access control.
A user web portal for easier procedures
Our Environment solution provides a responsive web portal offering the citizen :
Personalization of your personal space

The consultation of its bin readings


The management of its accesses and deposits in waste collection centers
The consultation of its invoices

Online payment
A Gestion de la Relation Citoyen module is available in order to allow you to manage all the dedicated steps.
An online appointment scheduling module to streamline waste management workflows
Our software solution also contains an online appointment scheduling module for your users, individuals and professionals. It allows you to :
A management of calendars by waste disposal center

A limitation of reservations per time slot

Notification to users of appointments (email and SMS)

Follow-up of appointments made online by users

La réservation des accès aux usagers ayant pris rendez-vous

A tool to facilitate the management of inputs
and the rotation of skips for the agents
Our mobile terminal ECOPAD also allows the management of the inputs and the management of the rotation of the skips.

Input management :

Multi-criteria identification of producers

Registration of deposits by type of waste

The dematerialization of deposit receipts and signatures

The rise of incivilities
The rotation of skips :

Identification of dumpster locations

Real-time dumpster fill rate

Management of removal requests
Incentive Pricing to Control Household Waste

Beyond material equipment, we can assist you in the management of household waste by setting up a billing engine (TEOMi, REOMi, RS) adaptable to all your pricing rules :
Lifting of household waste bins

VAP (Voluntary Contribution Point) contribution(s)
Access and/or deposit(s) at the waste disposal center

Type of population (municipality of origin, profession, ...)
Our Incentive Pricing solution allows, among other things :
Assignment of bins on moving in

Over-budgeting
An accounting role compatible with DGFiP standards


Interfacing with financial management solutions

Hosting service and rgpd warranty
We offer secure hosting of your solution in compliance with European regulations
on data protection and confidentiality.

Available in the Horanet Go Solution
The Go-Environment has been designed on the basis of the Horanet GO product, a full web-based centralized management tool with its Open Source modules.
our other solutions
Sport and Leisure
A management tool for your swimming pools, skating rinks, sports fields and gymnasiums with its online portal and access control equipment.
Mobile application
Coming soon, a citizen mobile application, customizable according to the needs of your users.
online procedures
A citizen portal to allow your citizens to easily carry out their online procedures in compliance with data protection regulations.